Nebula Stone New Age Retailer Review
The Discoverers, the origin and direct source of all Nebula Stone
Nebula Stone Massage Wand

New Age Retailer
The #1 Trade Magazine for Retailers of New Age Books, Music, and Merchandise
Karen Crane is an independent sideline reviewer for New Age Retailer.
Nebula Stone™

Discovered by Karen and Ron Nurnberg

The Nebula Stone was discovered in the Americas, seemingly unidentifiable by mineralogists. It looks somewhat like speckled jade and includes some crystal formations, but experts disagree on the exact components, with the American Museum of Natural History even calling it
"unlike any thing... we've ever seen."


Discoverers Ron and Karen Nurnberg named it the Nebula Stone because the stone seems to connect the depths of Earth to faraway nebulae that signal the birth of new star systems. The stone has magic in it. When the box of samples arrived at my office, my assistant and I each filled our palms with the stones and began playing with them. I have kept one in my pocket or clutched in my palm ever since, enjoying the grounding properties the stone seems to offer. It carries a very gentle, loving energy that makes me feel grounded on the earth and cushioned on a pillow at the same time.

A display of various-sized pieces of NebulaStone will induce sales in your store. Customers sensitive to vibration will find themselves pulled to touch and hold this stone. It is highly desirable for use by healers and therapists who like to place grounding objects in the hands of their clients. It can be worn as a pendant or even over the heart because it vibrates to the tone of love and won't block the heart chakra.


This stone is beautiful. Green circles float in a field of smooth deep green almost black matrix, giving the stone a look of elegance and depth. It is offered in a highly polished form and also in a natural form that appears softly polished. It comes as tumbled stones in small sizes for pouches or pockets and also in larger pieces, excellent to use in meditation or contemplation. Prices varying depending on the size of stone and the type of finish work.



or email

Back to: Metaphysical...Published Articles about Nebula Stone
Ask about Gift wrapping and sending direct to recipient!
* We are not set up for online shopping cart buying... so please call or E-mail us for a purchase.
The Dalai Lama and Carl Sagan
Newly updated: The Discovery of Nebula Stone
"The Enchantment of Nebula Stone"
Large Nebula Stone Gemstone Palmstones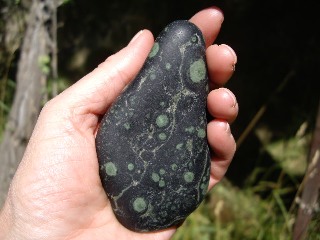 * NEW Nebula Stone Nuggets Tumbled Stones
* NEW Large Exquisite Nebula Palm Stones High graded
Starburst Nebula Palm & Pocket Stones
Nebula Stone Carvings
Nebula Stone Animal Carvings
Nebula Stone Gemstone Mineral Spheres
The Nebula Skull Crystal Skull
Nebula Stone Gemstone Crystal Skulls
Alien Skull Stone Supernova Discovery
The Encyclopedia of Crystals by Judy Hall
Nebula Stone in The Book of Stones
Nebula Stone by JaneAnn Dow- Mayan Past
Nebula Stone Review by New Age Retailer
Melody's note about our Discovery
Metaphysical...Published Articles about Nebula Stone
Colored Stone January February 2010
Nebula Stone Rock and Gem Magazine Story
Nebula Stone Gemstone Knife Handle in the making
* NEW
Chocolate Galaxy
* NEW Collector Gallery
Indiana Jones and the Kingdom of the Crystal Skull
___________________________
"The Cosmos a Spacetime Odyssey" with Neil Degrasse Tyssen
_______________________________________
* We are not set up for online shopping cart buying... so please call or E-mail us for a purchase.
If you wish you may share our link with others, just copy and paste www.nebulastone.com into your email.
Privacy: We do not give, sell, trade nor share any of your info!! It's your stuff.
Color and appearance may vary depending on your monitor and settings.
Crystals and Stones are not a substitute for medical treatment.
Nebula Stone makes no claims, and is not intended to diagnose, treat, cure, or prevent any disease.
If you need help in any way please consult your doctor or other health care practitioner regarding health issues.
Copyright© 1995-2021 Nebula Stone™
the sole source of all Nebula Stone™ or related Nebula type stones.
All rights reserved.